Customer Testimonials
Hunter,
OH MY GOD is what I was saying when I received the picture of the finished product. I was amazed and tears starting coming to my eyes because you have incorporated everything that we had discussed into the cake topper. I have to show everyone. Cesar is going to LOVE IT!!!!!! I was going to surprise him with it on our wedding day, but now I'm not so sure I should because I am so excited to show him!!!!
It was really worth the wait and I most definitely will be doing business with you some more in the future…….thank you for making my day more memorable!!!
Thank you so much!!!!!!!! Cherry

Hunter,
I received my bears today and they are more
spectacular than I imagined they would be! The hat is
supreme and the colors and so vivid! No picture can
do it justice. I know that Dave and I will cherish
your creation for the rest of our days! Thanks so
much for giving me a break and all of your input and
help with it, it is nothing less than perfect. Sincerely, Jules
I was very pleased with your work… the sculpture was definitely the talk of the party! I can assure I will be requesting your talent again soon! Thanks so much! You work is definitely the most unique and personalized gift out there! Heather C

Oh my… Hunter, thank you so much! It's even better than I imagined!! Cannot wait to give it to him, he'll be thrilled! I will let you know when I receive them. (So awesome!!).I'll recommend you to all my friends as well. Thanks for being so responsive and for great work Yana
Hunter, My husband LOVED the sculpture of himself (in full dental attire) with all of his favorite things surrounding him. His staff and patients can't stop talking about how original and creative it is! Thank you so much for all of your help in planning this unique gift. You will hear from me again...Two of my nephews will be graduating from college soon and I can't wait to begin designing their sculptures with you!
Take care, Nancy
I LOVEIT!!!!!!!!!!!!!!!!!!!!!! Pamela B

Hunter, He was speechless, it was definitely one of the best ones I think we've done!!!!! Thanks,Liz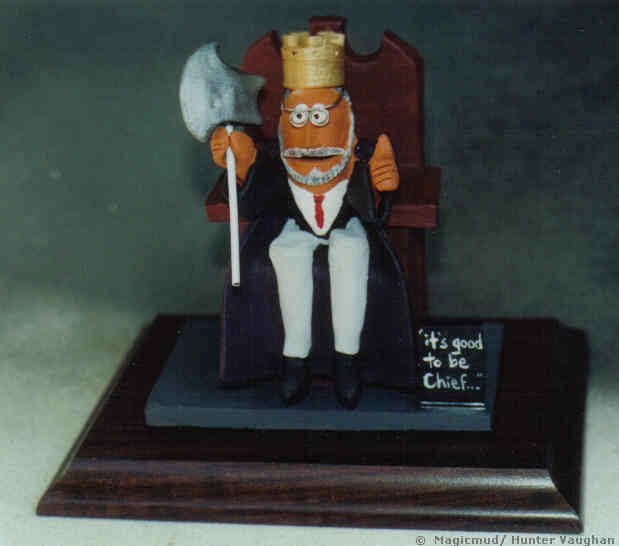 Hi Hunter,
Just wanted to confirm the figurines arrived safely and exceeded my wildest expectations! They were exactly what I wanted and you interpreted my rambling instructions perfectly, which couldn't have been easy.
My husband was absolutely thrilled with his "Chief" figure and I know I will want some more personalized figurines in the future! I will definitely recommend you to everyone I know. Best wishes and thank you,
Janet Saturday, June 14, 2003
Your figurine was enjoyed and admired by all who saw it, and drew many compliments upon presentation.
Thank you for your fine work. I very much appreciate it.
You made a fabulous wedding topper for my husband Elio and I last year for our August 9th wedding. He was the 'wedding singer' and I was the admirer with the camera in hand waiting to snap a picture.



Hi Hunter,
"Josh" arrived today and he is absolutely adorable!! I can't wait to give him to my son next week. My husband loves your sense of humor and I know we will be ordering more items in the future. I would imagine that anyone that receives your art would be thrilled with the results.
Thank you so much for sharing your talent in these memorable artworks. Sincerely, Sandi

I gave Tony his birthday gift yesterday - he was totally bowled over, to say the least.
A huge success!! P.S. Everyone at my office was blown away !!!
Teri
Dear Hunter,
I just wanted to let you know that I presented my two Urologist sculptures as gifts last night, and they were a great hit! Everybody at the event thought they were fantastic and they were very appreciated by the recipients. I thank you greatly for your creativity and I am sure I will be contacting you in the future for other gifts. Thanks again, Elliot
Hunter, She is AWESOME! You just do such unbelievable work (and you can quote me on that)!
Thank you so much! Steph

Well happy and excited and eternally grateful for his "best" present. He's going to put it on his mantel at his new office. Everyone was SO impressed.and you can relate the fact that the recipient can't wait to open his new office just to showpiece his sculpture!!! He said that the other day. Thanks again Hunter, Emilia

Dear Hunter: I received the figurine in one piece. It was better than anything I could have ever imagined. Thank you so much! I gave it to him today and he could not believe how amazing it was. He loved it, down to the single detail! Thank you very much, Liza
This sculpture is wonderful!!! Amber adores it!!!! Thanks so much for the personal attention you gave it. I'll recommend you to everyone!! Warm Regards, Margie P
Hi Hunter. Just wanted to let you know that Mark absolutely loved the figurine you made of him. He was so
surprised and thrilled about it. He loved all the details and thought we really captured his image well. He said it was the best gift he has ever received. He couldn't stop laughing at it - he loved the idea too.
So a big thank you for helping me put a big smile on his face.
Best, Emanuela

Hunter: Everyone loved the cake topper you made for us. We loved our topper. It was actually used as the photo on our thank you cards. Best of luck, Tricia

the cake topper is excellent Nicola and I love it, It will look great on the cake. Thanks again for making it, if we ever need anything like that again we know where to come
Thanks Ian


Hunter, I can't even begin to thank you for the art work you created for me! It

is such a unique item and I just can't wait to see the look on his face
when he opens this next week for Christmas! I brought it to work and
everyone just adored it...I have passed on your website to them so
hopefully it will bring you future business. You have such a talent to
be thankful for especially knowing how you touch peoples heart when
creating such personal artwork!
Thanks again Hunter, I wish you happy holidays! Kyle
Oh my gosh! It was here when we got in yesterday and in perfect condition!!

He was a huge hit! Thank you. I gave at your cards to EVERYONE. Thank you, thank you, thank you, Kristie

Hi Hunter, I thought I would drop you a line to tell you how much the boys loved their new ornaments. First they looked stunned, then they laughed their heads off. The ornaments were perfect. I will contact you next year. I got an idea for my husband's next ornament Ann.

Hi Hunter, Yes, he came today and I LOVE IT!!!!! It definitely was worth waiting for. I look forward to my husband's reaction when he opens it. I believe that anyone that orders from you will be pleased as your love for your work and pleasing others shines through the finished "child". I look forward in the future to ordering some other character. Thank you and Happy Holiday also Sandi D.
When we contacted you to do a custom job we were nervous about several things. The first was working with someone over the internet, the second was finding someone that could understand what we wanted. When we spoke over the phone I was confident in both your
ability to understand what we wanted and in your integrity. You had no 3-D model to work with, only pictures from the internet. When we received it, only a short time later we couldn't believe how well it turned out. Needless to say, the caketopper was our special way of reminding ourselves and those that were in on it of our special bond. Thank you again for an item that will always grace our home and our memories. We have set the topper on a shelf on our bookcase and will treasure it forever. Thank you Love, Mr. and Mrs. Sam R
Dear Hunter,
It looks absolutely fabulous... beyond my expectations. You are a genius! I can't wait to see it in person! What did you charge to my Visa, just so I know? It is worth every penny!! It was great to work with you. Hilarie

Hunter
I just wanted to express my deepest thanks for the contractor gift you made for us. It is truly a work of art. We gave it to our friend over the weekend and he absolutely loved it.
Thanks so much again.
Nadine S.
Everybody loved the figurine, and the personalized touches made the cake (and the wedding) a truly special day. Best wishes and thanks again -Sarah G. and Chad R.

hi, hunter:of course THE GIFTS WERE GREAT AND EVERY SINGLE ONE WAS REAAAAAALLY HAPPY ABOUT RECEIVING THEM!!!and when i gave them to my family, my girlfriend and my buddies, THEY ALL LOVED THEM!!!
it was reaaaaally nice for me as well to get to know you and have some very special gifts for my loved ones, and not only this mass-production-garbage as usual! talk to you later, orenz

I recently received your kayaking attorney as a gift . It was
perfect. Great gift. Yours truly, Cynthia F

Hunter- thank you soooooooooooooo much for the amazing wedding cake topper. It came out great! And was a big hit! Hope to work with you again soon for another occasion!! Linda