Personalized Figurine Gift Gallery
Custom made Clay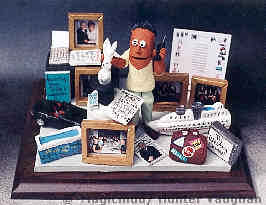 Figurines for you!
Clay Caricatures and Personalized Figurines created to your specifications, see examples: Family, Weddings, Judaica, Sports, Professions, Medical, Dental, Lawyers, Corporate/Business. The perfect personalized gift idea for family, the office, clients, friends or any occasion or holiday. A unique online shopping experience where professional sculptors Hunter, Lois and Jupiter Vaughan create your concept in fired clay. These totally personalized figurines incorporate the information you supply about your recipient's personality-occupation- interests and it is incorporated into a one of a kind Customized Clay Caricature. Entirely handmade Custom Figurines are the perfect idea for family, clients, friends, staff, customers or any occasion and holiday. Total flexibility and a history of 25 years of experience pleasing our customers will ensure that your special piece of artwork is enthusiastically received. Contact us to have your gift giving problems solved, or call 1 800 231 9814 and design your custom figurine over the phone with us. Created at price levels to suit your budget.

Family Personalized Gift Figurines for Birthdays, Anniversaries, Mom's and Dad's, Graduations, etc.


Weddings Wedding Cake Toppers made to order, Customized Wedding Statues, a variety of Brides and Grooms.


Judaica Unique Bar and Bat Mitzvah Figurines and Bar Mitzvah Cake Toppers , Jewish Wedding Cake Toppers, Chanukah, Anniversary's, Custom made Chachkas


Sports Personalized Sports Figurines at their favorite activity, Golf, tennis , Hockey, etc...
Clay Caricatures are Unique gift for Sportsmen


Professions Professional Figurines... Customized Clay Statues for Accountants, Cooks, Teachers, any Occupational Figurine can be created!


Medical Personalized Medical Figurines will have them in stitches!! Perfect Gift for Doctors, Surgeons, Chiropractors, Veterinarians etc....

Dental Customized Dental Figurines and Clay Caricatures... A Totally Original Gift for Dentists, Orthodontists, Periodontists, Endodontists ,Dental Technicians and all in the Dental Field


Lawyers Personalized Lawyer Figurines Made to Order! Sue me if these Clay Caricatures aren't the greatest gift for Lawyers, Attorneys, Barristers and Judges


Corporate / Business Custom-made clay figurines are perfect presents for Awards, Executive Gifts, Retirement, Promotions and Incentives. From Chairman to Secretary, we will create the unique gift that they will remember and treasure.