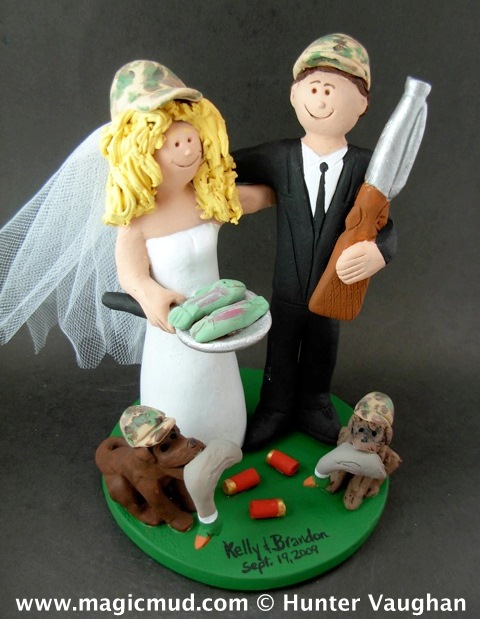 Duck Hunter Topper
A Custom made Groom's Cake Topper created exclusively for a duck hunter! They are both in camouflage hats along with their hunting dogs who are also sporting the "camo" hunting hat. Even the base of the cake topper is ringed with shotgun shells...we can custom create any style of Hunters Wedding Cake Topper for any type of sportsman!
Read below the comments from the loving Mom who ordered this Customized Grooms Cake Topper for her son....
The topper was received with great enthusiasm from all! No one had ever seen anything like it and it was the toast of the rehearsal party! Your attention to detail is outstanding! After I took it to the bakery to have it placed in its "Crowning Glory" I could not get out of the store because people kept stopping me to ask where I had had the grooms cake topper made!! My other son is getting married in 4 months; we will have to get started on his topper now! I can't imagine the groom's cake without it! " Jessie T. South Carolina
There is no need to "hunt" for a personalized wedding cake topper, simply call us toll free at 1-800-231-9814.